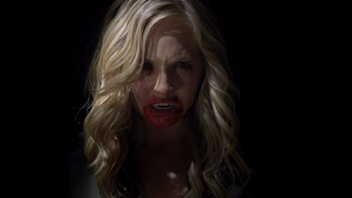 Vampires are one of the main species in the
The Originals Fanfiction (Series)
and
NightFall
universe.
Creation
Only a vampire can create another vampire. Humans who die with vampire blood in their system will be resurrected as the undead, becoming a vampire. To complete their transition, they must feed on human blood in the next 24 hours or they will die.
Humans can be turned into vampires but for werewolves is a different case. Werewolves who die with vampire blood in their system will become Hybrids (Half Werewolf-Half Vampire) and this is only possibly with their Original Hybrid, Niklaus Mikaelson and his daughter. Witches can be turned into vampires but the combined entity will be a normal vampire since vampires cannot practice magic. However it is unknown of why Danielle Asia Mikaelson was able to continue practicing magic when she was born a witch and later turned into a vampire, making her half witch-half vampire.
Different Species of Vampires
Original Vampire: The first and oldest vampires in the world. They are more stronger than ordinary vampires, they don't even need blood to increase their strength.  
Hybrid: A different species mixed with vampire. 
Dhampir: Half-human, half vampire.
Pureblood:
Powers/Abilities
Super Strength
Super Speed 
Heightened Senses 
Super Agility
Super Healing
Super Durability
Emotional Control
Dream Manipulation
Mind Compulsion
Immortality
Tactile Telepathy
Blood Lust Control
Fangs
Eidetic Memory
Note: All vampires may not have the same abilities as others! 
Weaknesses
Sunlight
Vervain
Stakes
Invitation
Desiccation
Werewolf Bite
Broken Neck
Necromancy
Known Vampires
Former Vampires
Trivia
Community content is available under
CC-BY-SA
unless otherwise noted.