Serena Julia Vivian
Biographical information
Born

1990

21 (S1)
22 (S2)
23 (S3)
28 - 29 (S4)

Status
Occupation

Mystic Falls High School Student (formerly/graduated)
College Student (currently)
James' Student (currently)
Journalist (Season 4)

Titles

Rere (by James and Adam)
The New Grim Reaper
Love, Darling & Beauty (by Kol)

Species
Gender
Family information
Significant Others
Parents

Jonathan Vivian (Father) †
Britney Vivian (Mother) †
Elijah Mikaelson (Former Guardian)
Adoptive Parents

Supernatural information
Appearance
Played by
First seen
.
Serena Julia Vivian is a main character in The Originals Fanfiction. She was a major supporting character in the first season. She is a New Orleans College Student who majors in English/Writing (Journalism). She already knew about the supernatural world and sought answers about her family from The Original Family but only Elijah was able to give her the answers she needed. Serena also formed a special bond with Elijah.
During the first season, Serena began to find herself surrounded by death. She ended up being attacked by a black-hooded figure which later turned out to be the Grim Reaper, who wanted her soul. She eventually found out that both her parents died nine to ten years ago. Serena confronted the Grim Reaper herself to get answers but ended up finding out that the Grim Reaper is her father, Jonathan Vivian. Throughout generations, her family has been part of a cult that has worshiped Reapers. Upon her birth, Serena was chosen to be the sacrifice for the next Grim Reaper as she was the only one with the soul that could grant the Reaper has full power and keep him in the world. As a child, she was taken in by Elijah by her parents request. Britney and Jonathan gave up their lives in order to protect their daughter. However, Serena does not remember any of this, possibly that Elijah compelled her to forget. Serena made her decision to become the new Grim Reaper so that her father could be saved from a fate he had suffered for years.
In the second season, Serena began to learn more about the Grim Reaper's history and explore her powers. Serena return to her college life in New Orleans after being in Miami for months. Her powers began to become more in effect after she was reunited with her childhood friends, Adam Norwood and James. When she tried to keep them out of the supernatural world, a horrific event of James' death came upon Serena and Adam but it was later revealed that James was still alive and was the True Grim Reaper. Angered by James' lies throughout the years, she became his student until he would take away her reaper powers.
Early Life
Edit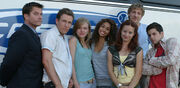 Serena is originally from Mystic Falls. She never knew what happened to her biological parents as they both went missing 10 years ago. Before she came to New Orleans, her adoptive parents had been taking care of her. According to Serena, Mikael was the last person to see her parents but according to Sophia that can't be possible when Mikael was entombed in an abandoned mausoleum at a cemetery, where he lay dormant for almost 20 years.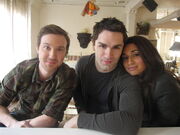 Elijah reveals that both of her parents are dead. Her father died almost 10 years ago and her mother died nine years ago. He refuses to tell her how it happened because he does not want her falling deeper into the supernatural world.
Serena learnt her family's history from the Grim Reaper, whom actually turned out to be her father. Through generations, her family has been part of a cult whom worship reapers. After Serena's birth, she chosen to be the sacrifice, as she was only one throughout her family's legacy who contains the soul that the Grim Reaper would need to gain his full power. When Serena was a child, her parents, Jonathan and Britney chose to place Serena in Elijah's care so they could protect her from death as the cult was coming for her. Elijah took Serena away and took care of her until he gave her up for adoption. She was then raised by her adopted parents in Mystic Falls.
Throughout the Series
Edit
Personality
Edit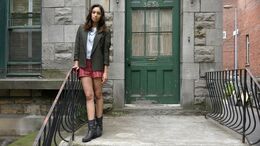 She's fun, cheerful, and a good friend. She wants a guy who is passionate, a man who loves something and someone and can put his heart into it. Like Rebekah, she is a free spirit. She's determined to achieve your goals. She is also the bubbly one who lights up the room and knows how to throw the best parties. Serena is not good at handling the sight of blood.
Klaus has said that Serena speaks her mind very openly yet Serena states that she speaks on how she sees things.
Physical Appearance
Edit
Long straight dark brown hair, light brown skin, and brown eyes.
Relationships
Edit
Main article: Kol and Serena
Serena's love interest.
"I think that you're stronger than of us."
—Elijah to Serena
Serena's closest friend and former guardian. During the first season, Serena discovers that Elijah knows of Serena's family history which has a dark secret to it. According to the Grim Reaper, Serena's family through generations were part of a cult whom worshipped reapers. Each person whom became a reaper failed to go their full transition but until Serena was born, her soul was the only one strong enough to fully complete the new reaper's, Jonathan Vivian powers. Elijah had always refused to tell her this as he was just trying to protect her from that cursed fate. It was also revealed that Serena was taken in by Elijah by her parents' request when she was a child. He took care of her for a time until he compelled her to forget about him and what happened the last time she saw her parents.
Main article: Serena and Caroline
Serena's best friend.
She knows who the Originals are from what she revealed in The Ultimate Game.
She also lived in Mystic Falls.
Her favorite hobbies are cooking and writing.
Her family has been associated with death for generations due to the repeating cycle with the Grim Reaper.
She loves Comic Con.
She will become a series regular in Season Two.
Community content is available under
CC-BY-SA
unless otherwise noted.