Patricia
Biographical information
Born
Status
Occupation

Employee at Clothing Store

Species
Gender
Family information
Supernatural information
Appearance
Played by
First seen
.
"
The future belongs to those who believe in the beauty of their dreams.
"

— Patricia
Patricia Felicity (a.k.a Patty) is a young woman still in high school, trying to figure out what she wants in life. When she gets caught up in the supernatural world, everything will change. She will make her appearance in Season Two and will play a supporting role in the Werewolf Arc. She will also find a special connection with the werewolf, Chase Dawson and become Hayley Marshall's new friend. 
Early Life
Edit
Throughout The Originals Fanfiction
Edit
Season Two
Edit
Patricia is first seen in Mother and Son.
Personality
Edit
Patricia loves her life, she's worked hard to get where she is and she is proud of it. Is brimming with confidence and assertiveness, and friends and colleagues know that if they need help solving a problem, she's the woman to see. 
Physical Appearance
Edit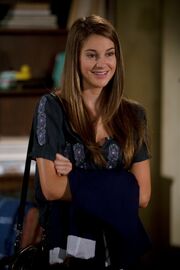 Patricia is very trim and healthy. Her hair color is originally brown but sometimes she dyes it red. She will also a few times put blonde highlights in her brown hair.
She doesn't wear much makeup. But sometimes she wears natural pink gloss, concealer over blemishes and other such areas, mascara on the top lashes, eyeliner on the upper lid of the eye, and a light beige and golden brown colored eye shadow. 
Her clothing style is casual, classic, and cute. Her clothes are all designer. She sometimes wears black leather jackets, ripped and sand-washed denims, striped sweaters, cardigans, jeans and dresses. Boots, flats, and very few heels. At events, she will choose a strong and chic black trouser look and sexy, strappy heels. Also she relishes the feel of luxurious fabrics against her skin, and dresses to bring out her alluring side. She also wears camisoles, tees, and light sweaters with details like lace, a ruffle, or embroidery.
Relationships
Edit
Chase will be Patricia's close friend at the beginning of the series, later becoming a romantic interest. Their first meeting will be when he saves her out of a tight spot. (See Chase and Patricia.)
TBA. (See Hayley and Patricia.)
Abilities
Edit
Patricia possess strength that will allow her to defend herself whenever needed. Chase will act as a mentor toward her in fighting skills.
Community content is available under
CC-BY-SA
unless otherwise noted.