Nyla Zepeda
Biographical information
Born

_________ 1998

17 (S1 & S2)
18 (3x01 - 3x0?)
21 (3x?)
22 - 27 (S4)

Status
Occupation
Titles

Little Rebel (by Jayla)
? (by Amadeus)
Sweetheart (by Venus)

Species
Gender
Family information
Significant Others
Parents
Siblings
Supernatural information
Appearance
Played by

Caitlin Stasey
Kaitlyn Maher (Young)

First seen
Last seen
.
"
Darkness seems hard to escape. From the looks of it, the darkness can envelop you and take over your complete being.
"

— Nyla
Nyla Zepeda is one of the main characters of Eternal Darkness. A young woman that is thrown into the supernatural world and has no idea to the dangers that lie within it. The bonds with her older sister and two best friends continue to grow stronger until she discovers hidden secrets and the tragedy that will soon come upon her. She also finds a connection to the mysterious, attractive and merciless vampire, Amadeus Bloodworth whom take an high interest in her.
Nyla is a member of the Zepeda Family, and of the Lunctus Gang.
Early Life
Nyla was born to an Julius Zepeda and Kyra Zepeda in London, England. She is the younger sibling of Jayla Zepeda.
Name
Nyla is a Celtic and Gaelic origin. The name means 'winner, attainment of desires'.
Zepeda is of aspiration and inspiration, hope and guidance.
Nyla's Story
Legacy
Personality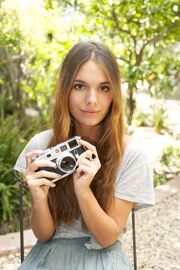 Nyla is a genuinely caring young woman. According to her older sister, Jayla, Nyla is a "little rebel". She stands by her beliefs and will go up against anyone who stands in her way of the goals she wants to achieve. She can't stand foolish people and hates it when herself or other people being judged.
She is very passionate about photography and hopes that one day she can become a photographer whose pictures make others happy.
Nyla also fears some of the vampires at Lunctus Academy except Amadeus Bloodworth whom seemingly becomes protective towards her when anyone verbally or physically attacks her. However, she soon overcomes her fear and looks towards Mason Edwards as her fighting instructor. She will prove to how strong she really is and take down anyone who comes at her.
After learning about the supernatural,
TBA
Physical Appearance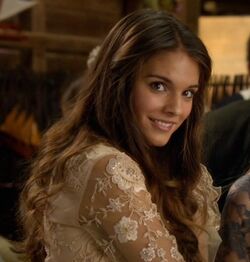 Nyla is a beautiful young woman with olive skin, light brown hair and with brown eyes. There have been few times where she had dyed it blonde.
Her fashion sense is mainly innocent.
TBA
Abilities/Equipment
Nyla beings to learn martial arts at the beginning of the series with her instructor, Mason Edwards.
Relationships
Main article: Nyla Zepeda/Relationships
Appearances
Bloodlines
United
Immortality
Forever
Promotional Images
Trivia
Nyla will have a deep connection with many characters.
She begins martial arts training in second or third episode in the first season.
She is one of the top students at Lunctus Academy.
Her biggest role model is her older sister, Jayla Zepeda.
The vampires are very addicted to only Nyla's blood for some unknown reason.
Nyla will have a role in the Damien storyline.