Nicole Bennett is a main character of Eternal Darkness. While at Lunctus Academy, she is given a special role by the headmaster and begins to look deeper into her family's history, uncovering many unexpected connections and secrets.
Nicole is a member of Qetsiyah's Family.
Early Life
Edit
Nicole is a feminine given name and a surname. The given name is of Greek origin and means "victorious people".
Bennett is an English and Irish language surname. In Latin it means "blessed".
Nicole's StoryEdit
Personality
Edit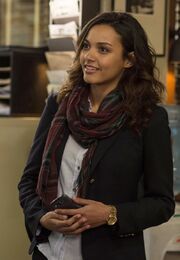 Nicole is known to be a very strong and bold person. She is not reckless and thinks before she acts. Others also see that she is smart, kind, caring, protective and a loyal friend. At times she is also like a big sister, looking out for everyone and making sure they turn out alright.
At the beginning of the series, she is skeptical of what Cedric Aldrich is trying to achieve. She doesn't believe in the idea of having peace between humans and the supernatural, knowing what her cousin had been through and hearing of other tragedies.
Physical Appearance
Edit
Powers & Abilities
Edit
Coming from a powerful lineage of witches, Nicole has yet to tap into her full potential. Never seeing a reason to as she has not been in dangerous situations like her cousin and ancestors. However after certain situations that occur in Lunctus Academy, she begins to show what she can really do.
Most Significant Magic
Edit
Relationships
Edit
Main article: Nicole and Jayla
Nicole's close friend and...
Appearances
Edit
Bloodlines
Edit
Promotional Images
Edit
Nicole is seen as the "Big Sister" to the Lunctus Gang and many other students of the academy.
Community content is available under
CC-BY-SA
unless otherwise noted.